So, what's my excuse for not writing on my blog in the last 18 months?
My computer broke.
My arthritis kept me from typing.
I was blown to Oz in a tornado and just got back.
I had a full lobotomy and only now found a replacement brain.
Lizzie (my dog) ate all my blog posts.
I've taken a position with the NSA and everything I write is labeled top secret and might jeopardize national security.
I became a secret shopper and was overcome in Macy's perfume department.
I've quit writing to take up rocket science.
I've started ghost writing. You just can't see all my latest blogs.
I've started dating (oh wait, I got married) and I can't do two things at once.
All of the above
None of the above
Please circle the correct answer and turn in your papers after you've read the whole blog. (Make sure your full name and date are in the upper right hand corner.)
I'm back!
With the incredible help of Carma Leichty (now Carma BaughmanJ) and Teri Nott I am publishing some of my writing as a Kindle book on Amazon's site. It's title is "Untracked". It will cost you $4.99.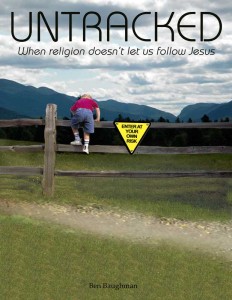 I think you will find this a different experience from reading the blog. Instead of snippets of thought that a blog supports, the book format allows cohesive process for those snippets to be put together like ingredients in a recipe that completes a satisfying meal.
I have started new writing projects that will produce fresh blog posts as well. I hope they are thought provoking and enjoyable for you.
Thanks for showing me that virtue that we all practice while we're driving:
patience!
I will love to hear from old and new friends again!
Ben Baughman